I'll have a piece hanging at the Åarhus Gallery in Belfast, Maine, starting this coming Friday.  The show should be a great one with an incredibly wide variety of work, and a signficant portion of any sales go to local food kitchens.  Great art for a great cause.  The opening reception is Friday, March 5th from 5-8 pm and the show will continue until March 28th.  I'm not sure yet whether I'll make the opening because of other commitments, but I definitely plan on making it up the road to Belfast during March to see the show.
Here's some info from the gallery:
2nd Annual "44N 69W: Radius Belfast" to Benefit Local Food Pantries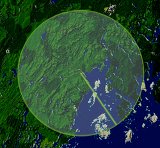 Åarhus Gallery once again, toasts our vast creative community by opening its walls to Maine residents of any age or training, living within a thirty mile radius of Belfast, to show their stuff – artwork, that is – in our all-encompassing 2nd Annual show entitled "44N 69W: Radius Belfast". From potters, painters, and welders to musicians, knitters and mobile makers, all work falling within the gallery's fairly liberal view of 'decency' will be presented on the walls, floor, or ceiling, as the case may be.